In Today's world if you have a laptops or desktop you need to have an antivirus software installed on your system. Since your data is one of the most precious things on this planet. Therefore having the best antivirus software installed in your system is a must.
Common people like you and me can't afford to buy those Antivirus Software's worth hundred's of dollars, But we all need to remain secure. So, we all have to use a free antivirus software which can secure us from those hackers sitting out there.
Today I will be sharing with you the Top 10 Best Free Antivirus Software 2017 for Windows.
Being a Windows user you may have noticed that you get a free windows antivirus preinstalled on your windows operating system. But is it, the Best Antivirus Software?
Best we proceed further let's have a quick look at what an antivirus is and how will it protect your system from Hacker's, Malware's, etc.
What Is An Antivirus Software And How Will It Protect Your System?
Basically, an Antivirus Software is a computer program which checks your system for the most known Viruses. Malware, etc. Sometimes Antivirus Softwares are also known as Anti Malware Softwares.
A Good Antivirus Software also contains a feature called network security which replaces with your default windows firewall and will add an extra layer of security to your system.
What May Happen If You Don't Have An Antivirus?
As we all know that recently there have been attacks like Petya, Wanna Cry, etc from hackers. Millions of devices have been affected due to this and hackers have stolen the data from those devices.
The stolen data may also contain sensitive information like your bank details, credit card credentials, private images, videos, messages, etc.
How Did We Find The Best Free Antivirus?
I have personally installed each and every free antivirus software on my laptops and tested each of them and I have also made a few experiments with every free antivirus software to find out things like performance, efficiency, virus removal, etc
Do you know, I have personally inserted viruses, trojans, malware, adware, etc to find the results.
Best Free Antivirus 2017
Now you may have got an idea about Antivirus Softwares in your mind, and how important is it to install an antivirus software in your system.
| Rank | Name | Performance Score | Web Security Score | Malware / Virus Protection Score | Virus/Malware Removal Score | Overall Score |
| --- | --- | --- | --- | --- | --- | --- |
| 1 | Avast Free Antivirus | 10 | 9 | 10 | 9.5 | 9.6 |
| 2 | Bitdefender | 9.5 | 9 | 9 | 8.5 | 9 |
| 3 | Avira | 7.5 | 9.5 | 8 | 8.5 | 8.3 |
| 4 | AVG Antivirus | 6 | 9 | 8 | 8 | 7.7 |
| 5 | Comodo Free Antivirus | 8 | 8 | 7 | 7 | 7.5 |
| 6 | Panda Free Antivirus | 7 | 6 | 5 | 7 | 6.5 |
| 7 | Malwarebytes | 10 | 5 | 3 | 9 | 5 |
#7: Malwarebytes – Free Anti-Malware: Only For Malware Removal
Malwarebytes isn't really an Antivirus whereas as it's an Anti-malware.
Malwarebytes is a kind of Free Antivirus which can be used only after your system is infected. It isn't very effective in protecting your system.
Key Features Of Malwarebytes Free Anti-Malware
Excellent Malware Removal – Malwarebytes free anti-malware software is the best free anti-malware software. It has a very effective malware removal system.
My Opinion On Malwarebytes Free Anti-Malware
If your system has been affected by any kind of Malware. I have A Quick Solution for you. Just install Malwarebytes free anti-malware run the scan and clean your system and uninstall Malwarebytes.
I would recommend you not to install Malwarebytes as an Antivirus for systems protection.
Get Malwarebytes Free Antivirus Now
#6: Panda – Free Antivirus: For The 90's PCs
Panda Free Antivirus is an ok kind of free antivirus, you may give it a try.
Free Antivirus gives you an average virus and malware protection. the best thing about panda free antivirus is that it won't affect your laptops/computers performance.
Key Features Offered By Panda Free Antivirus
Antivirus Protection – Provides you free protection against virus and malware
Real Time Security Updates – You will get real time security updates, to stay protected from the latest threats.
Panda Free Antivirus System Requirments
The Panda Free Antivirus has been designed such that it can even run on a device having just 64MB of RAM.
Processor: Pentium 300 MHz.
RAM: 64 MB. Recommended 128 (It will only install the Antivirus unit).
Check the RAM requirements and the features available in it.
Hard Disk Space – 200 MB.
Operating Systems: Windows 8.1, Windows 8, Windows 7 (32 and 64-bit), Windows Vista (32 and 64-bit), Windows XP (32 and 64-bit) and Windows 2000 Professional SP4.
My Opinion On Panda Free Antivirus
One thing I don't like about Panda Free Antivirus is that it doesn't provide real time web security.
You may give Panda Free Antivirus a try whether it works for you. let me know your reviews on Panda Free Antivirus.
#5: Comodo – Free Antivirus: Best Antivirus For Linux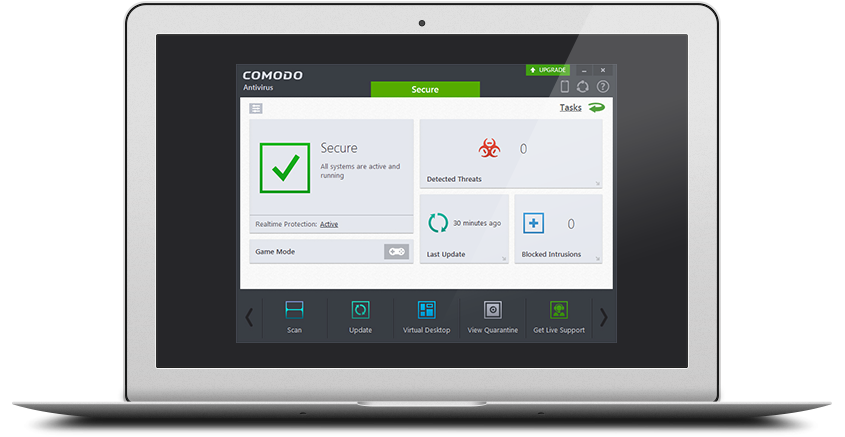 Comodo Free Antivirus is the free antivirus which can be used on any operating system and is the best free antivirus for Linux users.
It's an average kind of Free Antivirus Software which will give a pretty good protection against viruses, malware, spyware, etc, It even offers you features like scheduled tasks.
Key Features Offered By Comodo Free Antivirus
Virus/Malware Protection
Auto Sandbox Technology
Fast, Cloud Based Scans
How to Remove Virus / Malware Using Comodo Free AV?
Here's a quick video to learn how to remove the virus using Comodo Free Antivirus.
My Opinions On Comodo Free Antivirus
Comodo has been an award winning Free Antivirus Software. I agree that was the best free antivirus software but it was years before now we have better options out there.
But if you are a Linux user than then Comodo is the best free antivirus for you.
#4: AVG – Free Antivirus
AVG Free Antivirus gives you an average protection you may give it a try. But I think it would make your system damn slow.
When I personally tried AVG Free Antivirus I wasn't able to use google chrome and Microsoft word at the same time while AVG Antivirus is running the scan.
Key Features Offered By AVG Free Antivirus
As I told you AVG is an average kind of antivirus so there isn't anything very special about. But I have pointed out a few key features.
Viruses, Malware & Malicious URLs blocking – AVG antivirus will keep your system protected from viruses, Malware, etc. It will also block or warn you when you are trying to visit any malicious websites to keep your system protected.
Real Time Security Updates – AVG Free Antivirus will provide you real time security updates to keep you safe from the latest threats.
Performance Issues Scanning – I took this point only because I didn't get anything else to write about. AVG will scan your system and tell you things like remove these programs to make your system faster, clear browsing cache and history, etc. Do you know that AVG is also a big performance issue ( from my personal experience ).
AVG Free Antivirus System Requirments
Operating Systems – Windows XP, Windows Vista, Windows 7, Windows 8, Windows 8.1 and Windows 10
Processor: Intel Pentium 1.5 GHz or faster.
Memory: 1 GB
Hard disk free space (for installation): 1.3 GB.
My Opinions On AVG Antivirus
My opinion is that AVG Free antivirus is only for those who have a very high configured laptop/computer. For others and even the high configured one's AVG might not be the Best Free Antivirus For You.
Let me know what you think about AVG antivirus in the comments section.
#3: Avira – Free Antivirus: The Web Security Master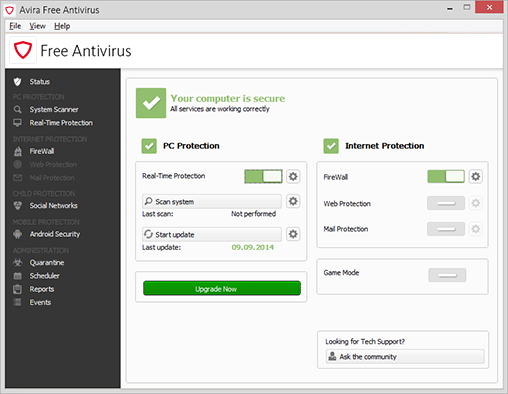 Avira is the most powerful antivirus for web security. But you need to compromise on your performance if you want to use Avira free antivirus.
I would recommend you to use Avira Antivirus Software only if you have a well-configured laptop or computer with a minimum of 2 GB of ram and 2ghz dual core processor so that you may be able to use your laptop/computer properly without any lag.
The main reason why Avira is better than antivirus in web security is that of its free web anonymity feature so that you can surf the internet without disclosing your identity.
Key Features Offered By Avira Free Antivirus
Real Time Cloud Scanning – The Real Time Cloud Scanning feature gives make it better for you and your system by checking your files on the cloud in real time. But it even has a con, Do you have a good enough internet connection for it ?. Try giving it a thought that how much time would it take !!
Free Web Anonymity – This feature might be very handy when you want to surf the web anyone knowing about you. You must use it while surfing private websites.
Rest all features are average and didn't anything interesting about it. Tell me what you think about Avira free antivirus in the comments !!
Avira Antivirus System Requirments
Operating System: Windows XP + SP3 (latest service pack), Windows 7, Windows 8/8.1, Windows 10.
Memory: 512MB RAM.
Processor: 1 GHz Pentium processor or higher.
Hard Disk: 150MB of available disk space.
My Opinions On Avira Free Antivirus
Avira is pretty good free antivirus software will also work on low configuration laptops but it will affect your system's performance.
What I don't like about Avira is that it keeps on prompting you for everything. If you install Avira then get ready to face those prompts.
Even thought Avira affects your system performance it's the Best Free Antivirus Software for Internet Security. So if you have a well-configured laptop/computer and contains any kind of sensitive data then Avira is the Best Free Antivirus For You.
#2: Bitdefender – Free Antivirus: The Silent Killer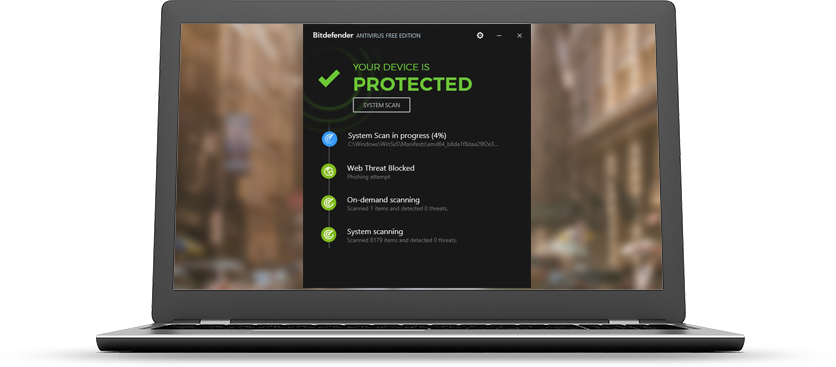 Bitdefender is a very well-known antivirus. It is one of the leading company in internet security protecting over 500 Million devices worldwide.
It has an excellent malware and virus blocking system to keep your system safe and secure.
Bitdefender also has a great network firewall and web protection to protect your system from the internet. Processes like malicious URL Blocking is done in real time without even hurting your system's performance.
Key Features Offered By Bitdefender Antivirus
I have already given you a short overview of Bitdefender free antivirus now let's talk about the key features offered by Bitdefender.
Virus Scanning And Removal – Bitdefender gives you on demand and on access powerful scanning to remove all viruses and malware from your system. It will make your system completely virus and malware free. I have personally used it and I had a good experience with it.
Advanced Threat Detection – I just love this feature, It's like a teacher keeping an eye on all the students in the class room and picking up the misbehaving students to take action against them. what I mean is Bitdefender will monitoring the behavior of all your active programs and if any suspicious activity is detected Bitdefender will take action against it.
Anti-Phishing – Anti-phishing will warn you when you visit malicious websites.
Anti-Fraud – This is a very important feature and will be a great help for you. It will warn you every time when you visit a website which is known before for some frauds. So that you don't share any kind of sensitive information and you remain completely secure.
Bitdefender Free Antivirus Malicious URLs Blocking Test :
I read many online websites telling that Bitdefender Premium edition is great in blocking Malicious URLs. So I thought Let's Try it out with the free edition.
So I ran a Malicious URL Blocking Test on It and here's what I did and the result –
Firstly I got a list of 105 newly created malicious websites and then I wrote a program to access those URLs and what I found was that Free Antivirus worked well. It didn't block all the URLs but it blocked about 91% of the total malicious URLs.
It blocked 93 URLs Out OF 105 Malicious URLs.
Bitdefender Free Antivirus System Requirments
Operating system: Windows 7 Service Pack 1, Windows 8, Windows 8.1, Windows 10
Hard disk space: 2 GB available free hard disk space (at least 800 MB on the system drive)
Memory (RAM): 1.5 GB
Intel CORE Duo (2 GHz) or equivalent processor
My Opinions On Bitdefender Free Antivirus
I think BitDefender Free Antivirus and Avast Free Antivirus are at the same level the only big difference between Avast and BitDefender is that Avast gives you extra ordinary features like passwords protection, Safezone browser, etc.
So if you don't need these extra features than Bitdefender might be a great option for you,
Get Bitdefender Free Antivirus Now
#1: Avast – Free Antivirus: The Performance Master [Editors Choice: The Best Free Antivirus]
Avast is the best and most trusted free Antivirus Software. It's especially known for its performance and stability.
The latest version of Avast free antivirus also offers an automatic gaming mode which will disable all the alerts that you get while you are playing a game. The gaming mode will reduce the load on the processor and give you a better and more enhanced gaming experience.
An other most remarkable feature offered by Avast Free Antivirus is that it will not only protect you from viruses but also gives protection against ransomware and hackers.
Key Feature's Offered By Avast Free Antivirus
Intelligent Antivirus – Avast Smart Scan will scan your computer and block threats like worms, malware, spyware, ransomware, phishing attacks, viruses, etc. The specialty of Avast intelligent scan is that it will do all this without hurting your computer's performance and you can do your jobs while the scan going on.
Wi-Fi Inspector – The Wifi Inspector will automatically make your home wifi more secure by detecting the weakness and blocking those bad boys entering your network and damaging or stealing your data.
Avast Passwords – Avast Passwords will keep your passwords secure than ever before ensuring you the best passwords security.
SafeZone Browser – This is the most rear feature offered by any Free Antivirus. The Avast SafeZone Browser Ensures you the best security while you are making online transactions like money transfer, buying goods, etc.
Avast Antivirus System Requirments
Operating System – Windows 10, 8.1, 8, 7, Vista or XP SP3
Ram – 256 MB
Hard Disk – 1.5 GB
That's It If your system meets the requirements you are ready to get protected for free with Avast Free Antivirus. For most of you, your system will meet the requirements.
The Conclusion:
I have already told you that which antivirus may be the best free antivirus according to your requirements and needs.
For Most of you, Avast Free Antivirus might be the best free antivirus for you,
Let me know your reviews, thoughts, and feedbacks in the comments below.
Thank You for reading.